Der Zeitpunkt zur Erscheinung von Loki rückt immer näher. Es ist wahrscheinlich, dass der Single Malt Ende März oder Anfang April 2013 auf den deutschen Markt kommt. Hier eine Pressemitteilung von Highland Park:
Taking inspiration from the Nordic gods, the whisky is named after the brother of Thor, a god known for his mischief and treachery.
Loki has been aged in traditional Spanish sherry casks as well as heavily peated casks and bottled at 48.7%, giving the whisky a sweet, spicy and smoky flavour. Highland Park intended the release to mirror the characteristics of the shapeshifting Norse god himself, describing the whisky as "chameleon-like" and "enigmatic".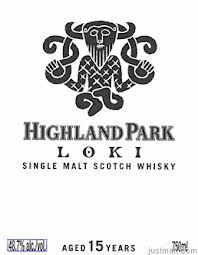 Its release follows that of Thor in 2012, and is presented in the same Viking-inspired wooden frame. "Thor was the first of its kind, a true quality malt built around an individual's personality," said Gerry Tosh, global marketing manager for Highland Park. "This proved massively successful and it sold out globally. Loki will continue to take Highland Park and The Valhalla Collection into new territory. "While everyone will recognize the definite 'Highland Park-ness' of this 15 Years Old Single Malt, it will be the unexpected and surprisingly smoky dynamics that will really get palates excited and mouths talking.
"This is unlike any expression that has come before and will beguile and fascinate with its complexity and trickery. Remember, all is not as it seems."
Highland Park set Twitter alight earlier this month after sending out teaser puzzles to key journalists and bloggers ahead of the launch. Upon completion of the folded paper puzzle, a message read: "A serpent stirs in the smoky shadows".
The teaser mimics that sent out prior to the launch of Thor in January 2012, when a rune and scroll of paper reading: "Few are chosen to drink with the Gods" were sent out.
Loki will be available in limited quantities in specialist retailers and at the Highland Park visitors centre, carrying an RRP of £170.